Camilla d'Errico is headed to San Diego Comic Con! Find Camilla at Booth#4723 in the Fantasy Illustrator section where she will be signing and showcasing her fabulous lineup of Comic Con prints, books and merchandise. SDCC is an enormous show, the exhibition hall hours are:
Wednesday July 17: Preview Night 6-9pm
Thursday July 18: 9:30am-7pm
Friday July 19: 9:30am-7pm
Saturday July 20: 9:30am-7pm
Sunday July 21: 9:30am-5pm
Prints
Camilla will have a wide offering of prints. Many of which are new to her Mini Print lineup, or convention-exclusive prints not available online.
Camilla will have prints of her July Charity print image, The Beekeeper. Sales of The Beekeeper prints in the month of July are collected and 50% of proceeds will be donated to the Ian Somerhalder Foundation to assist in animal and ecological conservation initiatives. Read more about Camilla's July charity print here.
Camilla has made some Comic Con exclusive prints. Visitors to her booth#4723 can look forward to seeing big beautiful 18×24″ prints of Beyond The Rainbow. As well as 12×12″ prints of her new painting, Bubs!
Merchandise
Camilla will have a wide assortment of printed zippered pouches, mousepads, laptop cases, pillows, designer haut totes handbags, and more! Some of these zippered pouches are one-of-a-kind, or printed editions of less than 5 pieces, so they are sure to make for a special convention exclusive pickup.
Books And Comics
Camilla will have her limited edition cover variation of Marceline And The Scream Queens, as well as a couple of Burn comic sets thought to be long sold out! Find these sweet scores at Booth#4723, along with her new Helmetgirls artbook and Tanpopo hardcover.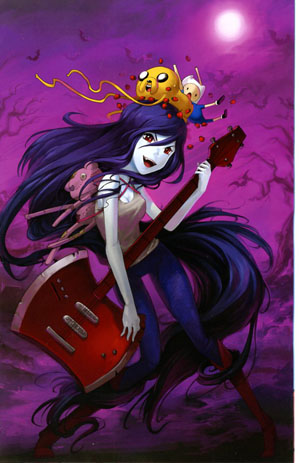 If you have any questions about Camilla's booth or appearance at San Diego Comic Con, feel welcome to drop us a line at info@camilladerrico.com